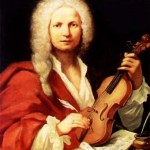 Vivaldi's famous composition Primavera or Spring is the first of a series of four concertos called "Le quattro stagioni". This is not a pizza, with a lot of everything on it but a series of four concertos about the four seasons, with a lot in it. Antonio Vivaldi (1678-1741) is Italy's most productive Baroque composer, a man who wrote more than 500 concertos, 46 operas, choral music and so on. Our arrangement is for saxophone quartet SATB.
Download a free sample set w/ all parts
Antonio Vivaldi, a priest who spent the major part of his life teaching music and directing a renowned orchestra in a girls' orphanage in Venice, wrote Spring and the other seasons probably during a stay at Mantua, around 1723, when he was in his mid-forties.
yes, there's spring in the Spring
Primavera or Spring has become Vivaldi's most played piece, so there has to be some magic in it, to make it last through the ages. Listening to the music, you immediately recognise the cheerful chatter of birds, preparing a nest, under the warm rays of a benign sun, becoming more powerful each day. The whole piece is a celebration of the return of life, after the cold and darkness of winter.
Most people are familiar with the intro, so transparent, well-structured and optimistic, which is so characteristic for music from that period, but Vivaldi, in the next part, made the music mimic real sounds. It was a musical innovation at the time, and it still hasn't lost it appeal.
Finally, after the lively pastoral scenes, you will suddenly hear the roar of thunder. This might surprise you. Is there trouble ahead? Not at all. Thunder is the herald of rain, that other ingredient for life. Or is it there for some another  reason?
Product details for Vivaldi: Spring from the Four Seasons for Saxophone Quartet (1 mvt)
level: intermediate/advanced
price: € 9.57 (full score at concert pitch + parts + adapted version)
Sample page (transposed) click to enlarge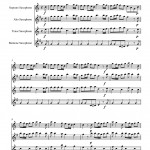 more…
Why are The Four Seasons so popular? Classical music blogger Andrew Mellor gives the answer.