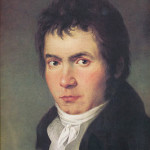 Ludwig van Beethoven's Moonlight Sonata is a labor of love, dedicated to one of the composer's students. Beethoven was a man with very strong emotions and a temper and you can hear that. The piece starts subtle, but not feeble, and mesmerizing, and builds up towards a powerful climax. We have arranged the well-known 1st movement of this piano sonata for a saxophone quartet SATB and AATB.
Download a free sample set w/ all parts of the SATB or AATB
Play it with urgency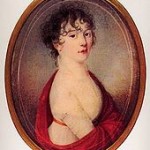 The Moonlight Sonata is dedicated to one of Beethoven's students, the twenty year old countess Giulietta Guicciardi, a beautiful girl he had fallen in love with. But the melody reminds us of a funeral march and was according to some, inspired on the music that accompanies the duelling scene in Mozart's opera Don Giovanni, where the hero kills not for love, but for lust. Love, murder and sex, it's all there. Can you imagine what Beethoven is trying to tell us?
Our arrangement gives you the opportunity to show how versatile an instrument a saxophone is. In the SATB the tenor and baritone play the rhythm, the same notes over and over again. You have the option to play it dreamlike but you can also give the notes more strength, and an increasing urgency, creating a contrast with the delicate melody played by the alto and soprano. In our view it is this tension that gives the Moonlight Sonata its lasting appeal, both for you and your audience.
What is lurking in the deep?
The official title of the Moonlight Sonata is Piano Sonata No. 14 in C-sharp minor "Quasi una fantasia", Op 27, No. 2. The German poet and influential music critic Ludwig Rellstab came up with the name Moonlight Sonata or Mondscheinsonate, five years after Beethoven's death. The first movement reminded him of a boat trip on a moonlit Lake Lucerne.
He has been criticized for inventing this too romantic label, but perhaps wrongly. Never underestimate a poet. Perhaps Rellstab was very much aware of the darker undertones in the Moonlight Sonata. After all, a moonlit lake is not just a sweet and gentle hideaway for lovers. Watching the cold and pale moonlight breaking upon the silent and black surface of the water, one cannot help but wondering what creatures are lurking in the deep, horrors that might suddenly emerge and rear their ugly heads.
Keep this in mind while you play the Moonlight Sonata, and both you and your audience will be fascinated.
product details for Beethoven: Moonlight Sonata for Saxophone Quartet
level: intermediate/advanced
price: € 5.57
sample page (transposed) click to enlarge: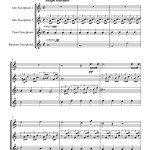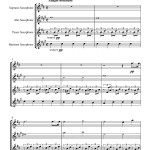 more…
Artist Katie Paterson transmitted the Moonlight Sonata to the lunar surface and back. Listen to a part of this "moon-altered score".