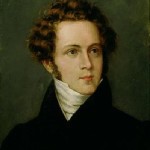 Casta Diva, from Vincenzo Bellini's opera Norma, is one of the most famous arias for soprano. A classical evergreen. A singer must have absolute control of the voice and a flawless technique to deliver the beautiful, intense melody. Only then the listener can grasp the emotional content. This is bel canto for the fearless. We think it is also suited for a saxophone quartet since the saxophone sound is so close to the human voice. We have arranged Casta Diva for SATB with the soprano, alto and tenor taking turns in the melody. The baritone provides the solid base.
Download a free sample set w/ all parts
Vincenzo Bellini: the Swan of Catania
A composer who writes such beautiful vocal music, must truly understands the human voice. Sicilian born Vincenzo Bellini (1801-1835) did. His life was short but he left the world great vocal music characterized by long and smooth melodic lines. Hence his nickname. Bellini grew up in a family of musicians and wrote eleven operas. The libretto to seven of them (including Norma) were by the Italian poet Felice Romani. Bellini was a genuine Romantic who believed that "music drama must make people weep, shudder with terror and die, through singing." (David Kimball in Italian Opera)
Norma: tragic and romantic heroine
The story is very dramatic (it's opera after all…). Love, betrayal, loyalty, infidelity, revenge, sacrifice. Yes, it's a lot and it's all in there. The opera is set in first century BC Gaul, occupied by the Roman Empire. Norma is a highpriestess who has two children out of a secret love affair with the Roman proconsul.
She is torn between the loyalty to her people and the love for the Roman, who is cheating on her with a younger woman. But that is something Norma doesn't know. When she finds out, she's deeply hurt and threatens with murder and revenge. In the end she sacrifies herself on the pyre. The Roman proconsul, suddenly overwhelmed with love, follows her.
Improvise!
Casta Diva (Pure Goddess) is a quiet but very intens prayer to the moon for peace. It has beautiful melodic lines. A nineteenth century Spanish treatise on the art of singing states: "It (the aria) retains the gravity of the legato style but continually changes by borrowing from the florid style, juxtaposing sustained notes, with briljant passages."
If you are a confident saxophone player and performer you can add your own ornamentations. After all its in the details, in crescendo and diminuendo, in apoggiatura and acciaccatura, accelerando and rallentando and there's freedom in the final a piacere.
product details for Bellini: Casta Diva from Norma for saxophone Quartet
level: intermediate
price: € 5.57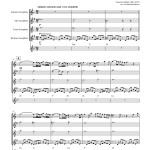 more…
There's a tasty  Sicilian dish called Pasta alla Norma. You can find the recipe at the food blog The Italian Dish