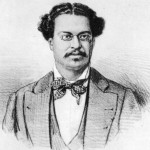 The choro, one could say, is the Brasilian equivalent of the American ragtime. It is a cheerful amalgam of European dance music (polka, waltz, mazurka, etc.) and African rhythms. Choro means weeping or crying. However, the style often has a fast and happy rhythm, characterized by improvisation, subtle modulations and full of syncopation and counterpoint. We have arranged a popular and famous choro for saxophone quartet SATB: Flor Amorosa (Loving Flower). Its composer is Joaquim Antonio da Silva Callado (1848–1880). He is considered the father of the choro.
Download a free sample set w/ all parts
Choro: houseparty-music
Choro is a mixture of European and African music. It originated in Rio de Janeiro in the late nineteenth century and was played by instrumental groups usually consisting of flute, guitar and cavaquinho (a small four-stringed guitar). Later, the pandeiro (tambourine) was added, providing a rhythmic line.
Choro groups played at private parties or in botequins (pubs). The musicians were called chorões (weepers) and were mostly amateurs, spending the night moving from party to party. They played at weddings, birthdays and other social gatherings as long as there was free food and drinks.
Da Silva Callado: father of the choro
In 1870 Joaquim Antonio da Silva Callado (1848–1880) founded Choro Carioca, the group that set the standard for the choro. As the son of a bandleader Callado was familiar with music. He learned to play the piano but eventually choose the flute as his primary instrument.
The flute is the solo instrument in the choro ensemble and since Callado was a virtuoso flutist he has left his mark on the development of the music. With his group and at numerous jam sessions he further developed his technique. Callado died young, at the age of 31, but he left us 66 compositions of which Flor Amorosa is the most famous.
In our arrangement of Flor Amorosa the melody is played by the soprano, while the tenor and baritone provide the harmonic and rhythmic accompaniment. For the alto we have added suggestions for ornamentation and countermelody. Also with chords.
So, if you have a party at your house play some "weeping" music and have fun.
Product details for Da Silva Callado: Flor Amorosa for saxophone quartet
level: intermediate
price: € 5.57
sample page (transposed) click to enlarge: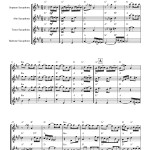 more…
If you want to know more about choro, Choro Music has a lot of information.