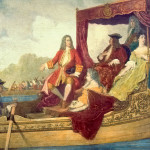 The Air of Georg Friedrich Händel we present for saxophone quartet (S/AATB and ATTB) and duo (AA, AT, TB and TT), is one of the parts in the first Suite in F major (HWV 348). Together with two consecutive suites, it forms the collection called Water Music.  Allegedly, this suite premièred on 17 July 1717 on a concert on the River Thames. King George had requested the concert. It was performed by 50 musicians playing on a barge behind the royal barge. More critical researchers maintain that only the second suite of the performance on this concert can be documented. Anyway, King George was so fond of the music that the musicians had to play the entire Water Music several times.
Download a free sample set w/ all parts of the AA, AT, TB or TT
Download a free sample set w/ all parts of the S/AATB or the ATTB
Before George became King of Britain and Ireland in 1714, he was the ruler of Hanover in Germany and Händel's employer. However, Händel moved to London in 1712. We are not sure whether this was with George's consent, so some consider the Water Music as an attempt to restore friendly relations.
Does that account for the very harmonious nature of the music? Or is this just something it shares with other great music from the baroque era? Although the music is named after the scene of its first public performance, listening to the Air you can hardly ignore the gentle flow of the melody, the voices that are beautifully interwoven. The Air has a more intimate quality than the Hornpipe, but they share the same sense of harmony, transparency and order.
Well, if you fear that playing Handels Air might become a little too sophisticated for your taste, then let us tell you that our arrangement for saxophone quartet and duo allows you to interpret this in your own way. You will discover that Händel's music has a hidden power that allows you to give it many different colors.
product details for Händel: Air from Water Music for Saxophone Duo
level: intermediate
price: € 2.57
product details for Händel: Air from Water Music for Saxophone Quartet
level: intermediate
price: € 5.57
sample page (transposed) click to enlarge: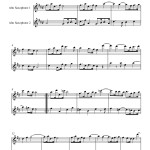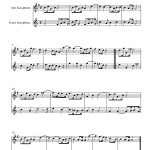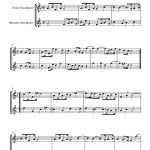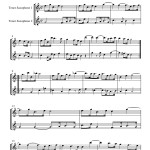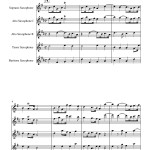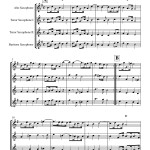 more…
Listen to musician Nicolas McGegan and mezzo-soprano Joyce DiDonato as they explain Why George Frideric Handel Still Matters