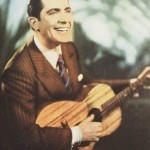 El dia que me quieras ("The day you will love me")  is one of the most beloved songs of the famous Argentinian singer Carlos Gardel. It's the title song of his film of 1935, which is, according to many critics his best one. Gardel (nicknamed El Zorzal Criollo, the creole nightingale) and his lyricist Alfredo Le Pera are considered important innovators of the tango, by their creation of the tango-canción. They added superb lyrics to the powerful music. By the way, the other great innovator of the tango, Astor Piazzola, plays a news paper boy in El dia que me quireas. We have arranged the song for a saxophone quartet SATB.
Download a free sample set w/ all parts
Tragedy and success
Gardel's innovation liberated the tango of its reputation as entertainment of a questionable nature for the lower classes, with a savage sensuality. It was the success of Gardel's films and records in New York and Paris that persuaded the Argentine upper class to finally embrace the vibrant music that is the tango.
Unfortunately El dia que me quiras was to be Carlos Gardel's last picture. On 24 June 1935, Gardel, Alfredo Le Pera and many others were killed in a tragic plane accident on the airport of Medellin,Colombia.
The sudden death of the 44-year old star led to a massive outburst of grieve all over Latin America. His corpse made a tour through the continent, from Colombia to New York, to Rio de Janeiro, to be finally put to rest in his beloved Buenos Aires. Crowds gathered along the way to pay their homage.
Almost eighty years later, Carlos Gardel is still very much alive in the hearts and minds of millions of fans, all over the world. Every day somebody puts a cigarette in the hand of the life size statue on his grave or lays a rose at his feet. He will never be forgotten, because, as the Argentine say: "Gardel sings better every day!" And you will prove them right.
Challenge
Playing El dia que me quieras and other tango's of Gardel poses a challenge for every saxophone quartet. How can you render the poetry of the lyrics into music? How can a saxophone sing: "The soft murmur of a sigh caresses my dream. How life smiles at me as your black eyes want to see me?" Think about this for a moment.
Then Carlos refers to laughter that "calms my wound, everything, everything is forgotten!" He tells his loved one, how her love and beauty have the power to restore harmony. The song ends with: "The night that you will love me, the stars will watch us jealously from the blue sky."
When you think this is over the top, think about the loves in your life and think again! When you do this we are confident that you will discover your own personal way to express the emotion.
El dia que me quiras is so much more than a common love song, this is a poem about the healing powers of love, and the suffering that is caused by its absence. It is a hymn to love itself, and our deep need for it. Think about this for a moment, let the words go through your mind, relate it to your own experience, feel the emotion and we're sure that the emotion will colour your saxophone playing. The challenge will become your victory! Play it again and again and one day people will say; "You will play better every day!"
product details for Gardel: El dia que me quieras for saxophone quartet w/ chords
level: beginner/intermediate
price: € 3.57 (full score at concert pitch + all parts)
sample page (transposed) click to enlarge: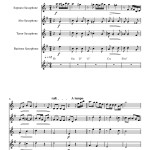 more…
There's a lot of myth around Carlos Gardel. Read about his so-called "everlasting fiancée" Isabel Martínez del Valle in this article on Todotango.