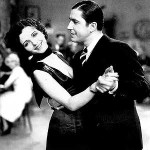 Mi Buenos Aires Querido (My beloved Buenos Aires) is a very popular song from Carlos Gardel's movie Cuesta Abajo (Downhill) from 1934. The picture on the left shows a scene with Gardel and sultry Mona Maris. The movie is about a man who has left behind everything he loved for all the wrong reasons and has finally come to regret it. The song is a homage to Buenos Aires. We have arranged this tango-canción for saxophone quartet SATB and added the chords.
Download a free sample set w/ all parts

He fell for Raquel
Carlos is a student from Buenos Aires, who works in a bar as a dancer, for money, in some port-city in the USA. How did he get there? He fell for Raquel, a femme fatale. For her he quit his studies, abandoned his true love Rosita and his beloved Buenos Aires.
But life with Raquel turned out to be less thrilling than Carlos expected. He realises this even more when an old friend from Buenos Aires, on his way home, comes to visit him in his bar.
To make matters even worse, Carlos finds out that Raquel is already in love with another man. So, Carlos decides to return to Buenos Aires, to return to Rosita.
Carlos' love for Rosita and the beauty of Buenos Aires – they are sometimes indistinguishable: "Mi Buenos Aires querido, when I see you again, no more sorrow nor forgetfulness". Then there is the more complex sentiment of remembering the days when the future still looked bright: "The little street lamp, standing on my native street, was there to witness my first promises of love. Its quiet light was shining when I went to meet my lovely sweetheart, glowing like the sun above."
The soundtrack to this scene is not just the accompanying music, but it is also referred to in the lyrics. Carlos hears "the complaint of a bandoneon". He promises to live in Buenos Aires for the rest of his life, because "under your protection there are no disappointments".
Room for interpretation
Gardel sings all this very cheerfully and with a lot of power. He knows he has made the right decision. There is no nagging doubt, or a feeling of guilt like in Volver. Perhaps this is because in this story Carlos is still a young man. In Volver he is man of middle age. Fortunately, in Cuesta Abajo all ends well, because Rosita is still in love with him.
Nevertheless, we believe that there is room for different interpretations of the song. It is up to you to make a choice. Whatever you choose, you can be sure of one thing: many people in your audience will remember their own Buenos Aires, their own Raquel and their own Rosita. Let's just hope she was as forgiving as the girl in Mi Buenos Aires Querido.
Product details for Gardel: Mi Buenos Aires Querido for saxophone quartet w/ chords
level: intermediate
price: € 3.57
Sample page (transposed) click to enlarge: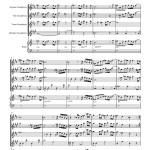 more…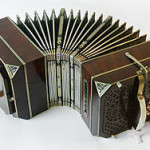 The bandoneon is the heart of the tango orchestra. It was invented in Germany. In the late 19th century it was brought to Argentina by German sailors and emigrants. Watch this report on the efforts of the Argentinians to protect the original instruments.