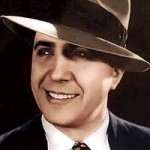 Carlos Gardel (1890-1935) was a wildly popular Argentine singer-composer and movie star, who helped develop the so-called tango-canción: tango with lyrics. It was a daring innovation in the 1920s. Until then the tango was associated with gangsters and brothels but Gardel made it respectable. We have arranged his immortal song Volver from the movie "El dia que me quieras" for a saxophone quartet with soprano, alto, tenor and baritone saxophone. We believe that the story of the movie and the lyrics of the song can help you with your interpretation.
Download a free sample set w/ all parts
The story of the movie
The story of "El dia que me quieras" (The Day You Will Love Me) is simple. Carlos' father, a wealthy Argentine business man, does not approve of Margarita, the girl his son wants to marry, so they run off together. Carlos (called Julio in this picture, but who cares) makes a poor living as singer.
Then, Margarita falls ill, and Carlos can't afford the necessary medication to save her life. He steals money from his father's house to pay for it, but unfortunately he is too late. Margarita dies. Carlos, sick with grieve, leaves the country, to become a big star abroad.
After twenty years, Carlos (now with "temples turned silver by time's falling snow") is offered a contract to tour Argentina. Reluctantly, he agrees. On the ship sailing home, his past haunts him more than ever before. He knows he has to muster all his courage to face the problems he fled from, so many years ago.
A sweet remembrance that makes you weep
On a sleepless night, on the deck of the ship that brings him home, under the stars that twinkle with cold indifference, Carlos sings Volver. This song has become immortal, because of its beautiful music and the poetic quality of its lyrics, that tell us how a plagued soul can be haunted by memories he cannot forget, and the scaring prospect of confrontation.
Gardel sings of "eyes in the dark" that constantly remind you of the past, until you realise that you have lived, with your "soul firmly clinging to one sweet remembrance" that makes you weep. The song ends with the observation that "oblivion, which destroys all being, has killed my old hopes, ripping them apart."
Is there one human heart on this planet that has never been troubled  by emotions like these? Well, Carlos Gardel gives you hope, singing: "I keep hidden a humble hopeful glimmer, that is the only fortune there is in my heart." With this, Carlos finally decides to face the demons from his past.
powerful singing – powerful saxophone playing…
Please watch Volver on YouTube. Here's the link. The clip is of bad quality, but very revealing. Gardel's voice is barely audible above the cracks, the result of almost eighty years of showing "El dia que me quieras" in cinemas all across the Latin world. Still, you can feel the power of the words: volver (to return), viver (to live), sentir (to feel), all pronounced with powerful rolling r's that give Spanish that sensual appeal to many listeners. Hopefully it inspires you to play all the embellishments a saxophone player has at his/hers disposal: glissandos, trills, mordents, grace notes, slurs.
… but with with restraint
We hope that the lyrics and the background story will inspire you. Thinking of the lyrics and the images they convey will influence your phrasing and other elements of your interpretation.
It is important to notice that, in contrast to the baroque nature of the lyrics, the music and Gardel's singing are powerful, but restrained. The depth of the emotion is suggested, but there always seems to be bigger things, lurking beneath the surface. This leaves more to the imagination of the listener, giving him or her more room for interpretation and excitement.
product details for Gardel: Volver for Saxophone Quartet w/ chords
level: intermediate
price: € 3.57
sample page (transposed) click to enlarge: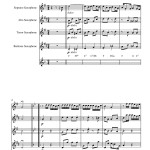 more…
Here's the full movie. There's a lot to tell about the tango. Visit TotalTango for more on the music, the dance and the history. Want to learn how to tango? Here are some instructions.