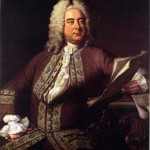 Händel's alla Hornpipe is a well-known part of the famous Water Music. It's a sublime, crystal clear piece of baroque music. We've boiled it down from the original with flute, oboe, horns, bassoon, trumpets, and strings into an arrangement suited for a modern saxophone quartet SATB. Now you can bring the atmosphere of a refined British royal court of the early seventeen hundreds to a 21st century wedding party. Or any other occasion that asks for sophistication and joy. Its upbeat tempo and happy mood makes it the perfect music for the wedding recessional. And it can be performed by less experienced players.
Download a free sample set w/ all parts
A german in england
Georg Friedrich Händel (1685-1759) was born in Germany, but lived and worked for the greater part of his life in England. He received his first musical training in his hometown Halle and in Hamburg. Händel was very much influenced by Italian composers like Scarlatti and Corelli during his four years stay in Italy.
an instant hit
His Water Music premiered in the summer of 1717 on a concert on a barge in the River Thames. Fifty musicians played it for the British King George I and his noble friends. Apparently, the King enjoyed the music so much that he made the musicians play it three times, until they were exhausted.
The Water Music is a collection of three orchestral suites (in F, D and G) consisting of several dances like the gleeful bourrée, the elegant minuet and the fun hornpipe. The hornpipe is a traditional British dance, that supposedly was created by British sailors in the 16th century, inspired by the moves sailors make, such as looking out at sea, lurching as in heavy weather. The rhythm became very popular with British composers of the Baroque and Händel used the term alla Hornpipe as an indication for the tempo.
product details for Händel: alla Hornpipe from Water Music for saxophone quartet
level: intermediate
price: € 5.57 (full score at concert pitch + parts)
sample page (transposed) click to enlarge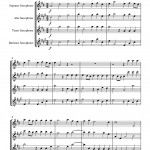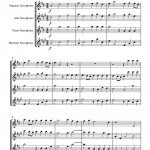 more…
On Sunday 3 June 2012, the Academy of Ancient Music performed Händel's Water Music on a barge as part of the Thames Diamond Jubilee Pageant for Queen Elisabeth. Here's some rehearsal footage with the musicians talking about the special problems of playing music on a boat.