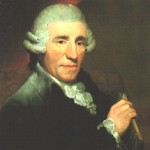 We've chosen to arrange the first movement of Joseph Haydn's String Quartet opus 64 no 5 also known as The Lark for its cheerfulness and elegance, a characteristic of most of Haydn's work. The main theme of The Lark reminds the listener of the melodious and extravagant calls of a lark singing high in the blue sky, on a beautiful summer's day. This arrangement for a saxophone quartet with soprano, alto, tenor and baritone adds contempory power to baroque finesse and style.
Download a free sample set w/ all parts
Father of the string quartet
Joseph Haydn (1732-1809) is considered the father of the string quartet. He invented it by accident somewhere around 1756, when he was organizing a musical soiree for a certain Baron Fürnberg. Unfortunately there were only four players available, two violinist, a violist and a cellist. For this ensemble Haydn composed a piece that became such a success that he decided to continue composing more for what became to be called string quartets. Eventually, Haydn composed 68 string quartets.
For thirty years, Haydn provided musical entertainment for the Esterházy family, one of the most important families in the Austrian-Hungarian Empire, during which time he composed many string quartets. He published String Quartet opus 64, no 5 The Lark in 1790, the year that his patron Paul Anton Esterházy died. This composition reflects Haydn's classical style, influenced by earlier co-operations with his friend Wolfgang Amadeus Mozart.
product details for Haydn: String Quartet op 64 no 5 "The Lark" for Saxophone Quartet (1 mvt)
level: intermediate/advanced
price: € 9.57 (full score at concert pitch + all parts)
sample page (transposed) click to enlarge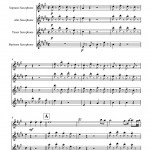 more…
Joseph Haydn played an important role in the emergence of German cultural nationalism during the 18th and 19th centuries, writes historian Tim Blanning. Read his interesting article "Joseph Haydn and the German Nation"