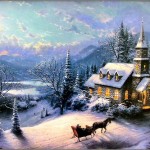 We have arranged the most famous Christmas song since Christmas began for all you folks to play it in such a way that you might as well call it "jazzy belles". Because to tell you the truth: this song was originally not written for Christmas and, yes, it is about picking up girls. However, we don't mind if you play it for Christmas with your saxophone group. We have arranged it for quartet, quintet, trio and duo. Also we've added swing timing and jazz lines. Jingle Bells is composed by an organist, James Lord Pierpont (1822-1893), in the 1840's or early 1850's, and first published in 1857. That's one of the few things we know for sure.
Download a free sample set w/ all parts of the AATB, SA or ATB
origin of the song
Pierpont originally came up with a slightly more complex melody, and a different title "One Horse Open Sleigh". According to one tradition, Pierpont wrote Jingle Bells for a Thanksgiving youth program at a church in Savannah, Georgia, where he worked as an organist and director of the church choir. The song immediately became a success, so by popular request he also played it at the Christmas program a month later.
The rest is history. Apparently it is in the top 25 of most recorded songs, and it was the first song from our planet to be performed in space. December 16, 1965, two astronauts aboard Gemini 6, Walter Schirra and Tom Stafford, played Jingle Bells on harmonica and sleigh bells.
Savannah, GA or Medford, MA?
Since 1985 there is a memorial at the former site of the church in Savannah. There is an endless controversy as to where and when Pierpont wrote Jingle Bells. We believe that this controversy reveals an important truth about what we all love in a song.
Pierpont was inspired by horse racings over the snow, which were popular in his hometown of Medford, Massachussetts. It was commonplace, and sometimes required by law, to have the sleighs adorned by bells. According to some this practice dates back to the early Middle Ages in England, where the bells were supposed to bring good fortune or chase away evil spirits.
So it is easy to understand why some claim that Pierpont first played Jingle Bells in 1850 in Simpson's Tavern in Medford. To explain that the song's fame began in Georgia, they add the story that Pierpont forgot about the song, and rediscovered it in a chest after he had moved to Savannah, sometime after 1853. They show you a small plaque where Simpson's Tavern used to be. It mentions a certain Mrs. Otis Waterman as a witness.
According to others Pierpont was in California, at the time, trying to make some money in the wake of the Goldrush. Others add that he first played the song in 1851 in a boarding house, owned by Mrs. Waterman that would only later become Simpson's Tavern.
Recently some historians conclude on the basis of newly discovered sources that Pierpont may have played Jingle Bells in a church in Medford in the mid 1840s. Others claim that the song can never have been written with the purpose of being performed in a church, because the lyrics clearly mention that the purpose of the trip is to pick up "Miss Fanny Bright" and other girls. But then, who cares about lyrics? So the discussion goes on and on.
The secret of Jingle Bells
You may ask why you should be bothered by this information. Well, this is why: this is a song about young love in the snow, that became popular in a place where a snowflake seldom falls. To the people of Georgia Jingle Bells was about another place, where things were the way they should be.
We feel that it is no coincidence that the road to fame for Jingle Bells started in Savannah, not in Medford. For a moment, think about how many songs deal with longing. That's what we can learn from Jingle Bellls, it is so much more than a simple Christmas song, it is about a desire for another, better place, and, although we don't always realise it, our hearts seem to know.
So when you play this apparently straightforward hohoho Christmas tune,  play it with love and respect, and think about what touched the hearts of the people in Savannah, Georgia and millions since then. Then you'll touch the hearts of your audience.
Product details for Pierpont: Jingle Bells for Saxophone Quartet etc.
level: intermediate
price quintet: € 6.57 (full score + all parts)
price quartet: € 5.57 (full score + all parts)
price trio: € 4.57 (full score + all parts)
price duet: € 3.57 (full score + all parts)
Go to our shop
Sample pages (transposed) click to enlarge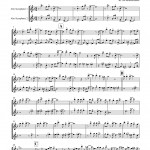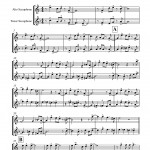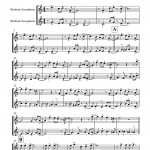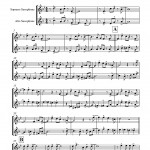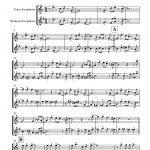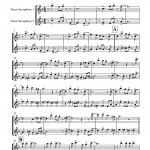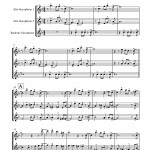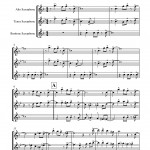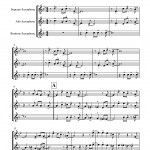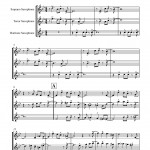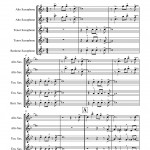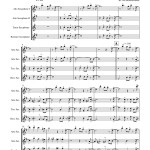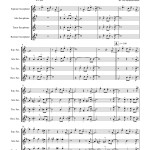 more…
In case you wonder why we sing Jingle Bells and if you want to know more about the history of Christmas songs, read this article by Slate columnist Nathan Heller.