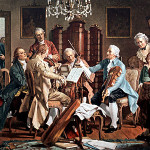 Joseph Haydn's String Quartet opus 33, no 1 is one of the six so-called Russian quartets. They were composed in 1781 and dedicated to Grand Duke Paul of Russia. Haydn wrote them at a turning point in his career. You can hear it, there's something going on. The music is fresh, powerful and innovative. Every player plays his own full part, thus creating an exciting tension between the voices. We have arranged the first movement for saxophone quartet with soprano, alto, tenor and baritone saxophone.
Download a free sample set w/ all parts
Haydn's career boost
At the time Haydn was one of Europe's leading composers, but his official function was Kapellmeister, or musical director, for the Esterházy family, one of the most prominent families in the vast Austrian Empire. Haydn had been working for them for twenty years, spending most of his time at the Esterházy estate, in rural Hungary, far away from his beloved Vienna – the place where it was all happening.
However in 1779, Haydn managed to renegotiate his contract. He got more freedom, was permitted to write for others and his work became his own property. It started Haydn's international career, and introduced a change in his style. Haydn himself wrote that he composed the Russian quartets in "a totally new, special way".
What's going on?
Haydn specialists note the more fluid style of phrasing and innovations in the way the accompanying instruments play their own complete melody. The listener hears a game of question and answer, powerful, yet restrained. The saxophone player immediately senses a great opportunity for some versatile saxophone playing.
This string quartet begins gently, but quickly it increases in power. Is it about a quarrel between a husband and wife in the kitchen, while the guests are in the living room, trying to ignore what they hear? They chatter politely about the weather and gossip about people who happen not to be present. The reassuring noises from the living room encourage the couple to increase the volume of their argument. However, the guests fall silent, and they can overhear each and every word. And everybody smiles relieved when the wife enters with the hors d'oeuvre.
Come up with an interpretation of your own
Well, you may think that our interpretation is far-fetched, ridiculous or outright wrong, but undeniable, there is a tension between the voices that makes the first movement exciting for today's listeners.
Experiment with the dynamics of this piece. You can play it more suave or staccato, and every time you play, another mood or another story will emerge. It is up to you and your saxophone quartet. Color your performance with your own imagination and capture your audience.
product details for Haydn: String Quartet op 33 no 1 for Saxophone Quartet (1 mvt)
level: intermediate/advanced
price: € 9.57
sample page (transposed) click to enlarge: