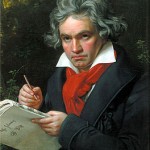 Beethoven's Für Elise (officially known as Bagatelle 25 in A minor) has one of the best known intro's in classical music. It was even sampled in rap music. American rapper Nas used it in his 2003 hit single 'I can'  to call upon Afro-American kids to make an effort to achieve success. It's an intro that everybody feels he can play. The other parts are more diverse, expressing different moods: serenity, cheerfulness and passion. We've arranged Für Elise for six different saxophone duo combinations: AB, AT, SA, SB, ST and TB. We also have arrangements for saxophone quartet and saxophone trio
Download a free sample set w/ all parts of the AB, AT, SA, SB, ST or TB
who was Elise?
There is much more to Für Elise and it starts with the obvious question: who was Elise? The most mentioned candidate is Therese Malfatti von Rohrenbach zu Dessa. She took lessons from Beethoven. He fell in love with her and proposed, but she turned him down to marry some Austrian nobleman with, in her opinion, a better career perspective. Poor Therese! When the original score (which is now lost) was published in 1867, forty years after Beethoven's death, the editor either misread the name, or wanted to be discrete. Therese became Elise.
Our favorite theory is that Elise was Elisabeth Röckel, an opera singer, called Elise by her friends. Beethoven also fell in love with her, but she married his good friend, the composer Johann Nepomuk Hummel. However, until her death she kept a lock of Beethoven's hair.
What has all this gossip to do with the music? A lot. It shows that Für Elise is a labor of love. The music voices all the feelings Elise stirred in Ludwig's heart. Perhaps Beethoven hoped that Elise might feel the same, while playing his music: the timid beginnings of love, the high spirits, the passion. We don't know. But we do know that it's all there in Für Elise, for you to enjoy.
product details for Beethoven: Für Elise for Saxophone Duo
level: intermediate
price: € 3.57 (full score at concert pitch + all parts)
sample page (transposed) click to enlarge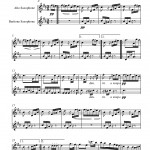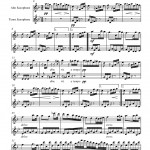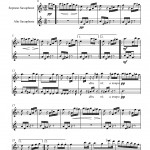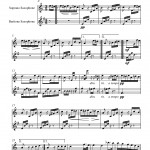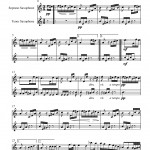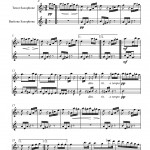 more…
There's an interesting, scholarly article on that famous footnote in music history: who was Elise? Read Maria Eva Hummel. A Postscript by musicologist and musician Michael Lorenz.