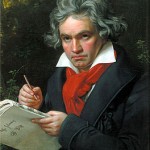 The String Quartet no 14, opus 131 has seven movements and Beethoven wanted them to be played without a break. Perhaps you've heard it in the movie "A Late Quartet". In fact, the music was used to structure the movie. We have arranged the first movement, a slow and intense fugue, for saxophone quartet SATB. In it Beethoven explores man's dark moods as a source of beauty. This is hard-core Romanticism, expressed in captivating music. We think it's a challenge for the control of tone of your saxophone quartet.
Download a free sample set w/ all parts
Listen to Beethoven: String Quartet op 131 no 14 for Saxophone Quartet:
Richard Wagner called this movement the saddest piece of music he had ever heard. Well, we do not want to argue with the great Teutonic Master of Music, but we can't help but feeling that the piece does have an happy ending. It expresses the victory of light over darkness, of love over hatred. This may sound like a cliché, but Beethoven takes the argument one interesting step further. To understand this we'll first have to take a look at the composer's difficult life.
The deaf composer
Beethoven worked on the String Quartet no 14 from late 1825 until July 1826, a period when he was plagued by several illnesses. For years he had been totally deaf, a fact that had cast a shadow of frustration over both his professional and private life. Throughout his life, Beethoven had many romantic affairs, with ups and downs, but this seems to have stopped around 1812, when his hearing problems became really serious. So, we suspect some correlation.
The hearing problems first began when Beethoven was around thirty years old. He first mentioned them in 1801. From about 1813 he had to use hearing-aids, from 1818 on he used writing to communicate with other people. Nevertheless Beethoven kept on creating beautiful music. Music that he could only listen to in his imagination. Think about that for a moment, a great achievement and a frustration at the same time.
A beautiful nightmare
When the quartet was almost finished, his nephew Karl tried to commit suicide. The young man was the son of Beethoven's deceased brother Carl (please notice the subtle difference in the spelling of the names). For years Beethoven had been fighting legal battles with his brother's widow to gain custody over the boy, which he finally won. Fortunately, the suicide attempt failed, but you can easily understand the effect on Beethoven's already troubled mood. But even in these difficult times, he doesn't give up: he goes on creating beautiful music. This string quartet even suggests that the darkness is the source of the light.
Beethoven's powerful message
The piece starts with a simple theme: serene and subtle, an opportunity to show your audience the versatility of your saxophone. This beginning evokes the mood of pondering over the loss of a loved one, or the inevitability of loss as the dark side of love. Beethoven does not leave you standing in the cold. In the piece there are two climaxes, one about halfway, and the other at the end.
As you hear how the climax is being developed from the notes of the dark beginning, you realise what Beethoven tries to tell us: beauty and love do not exist in spite of the darkness. The music shows you that they arise from the darkness itself which evolves, by some necessity, to beauty and happiness. Even when things seem to take once again a turn for the worse, don't worry, the light will prevail getting stronger and stronger, because it was there from the beginning.
When you listen to the first movement once again, you might make a startling discovery. The part that Wagner found so sad, is so much more than that. This is a truly powerful message.
product details for Beethoven: String Quartet no 14 for Saxophone Quartet (1 mvt)
level: advanced
price: € 9.57 (full score at concert pitch + all parts)
sample page (transposed) click to enlarge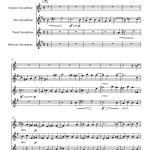 more…
String Quartet no 14 opus 131 is considered to be one of Beethoven's set of so-called late quartets. They were written in the last years of his life. Here you can read about the events surrounding their creation.