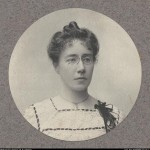 Waltzing Matilda is Australia's unofficial national anthem. It is one of the traditional songs that is loved all over the world. People sing it in public and in their homes, alone, or with their loved ones, captivated by its wonderful melody and tragic lyrics. We offer two arrangements for saxophone quartet: SATB and AATB. But you can also play it as a quintet because both versions have a second tenor saxophone, doubling the melody an octave lower. This strengthens the melody and gives a rich and full sound. Our arrangement starts with the original melody and than turns to jazz with a bebop touch.
Download a free sample set w/ all parts of the AATB or SATB
covered and renewed
Millions have loved Waltzing Matilda ever since its first performance in 1895 and they will love it for years to come. No wonder it has been performed by many artists, as diverse as Kylie Minogue and André Rieu. It inspired Tom Waits and Shane MacGowan of The Pogues to write new lyrics to this powerful melody. They all moved their audiences and it's easy to understand why. Waltzing Matilda expresses a combination of melancholy and hope, that has touched the heart of so many listeners throughout the years.
what is a matilda and what is waltzing?
The original lyrics were written in 1894 by Australia's famous poet Banjo Paterson and put to music by an amateur musician, Christina Macpherson on a melody, inspired by an earlier Scottish song. Waltzing Matilda tells the tragic, but true story of the death of an Australian swagman, an itinerant laborer, carrying all his goods in a bag, a 'matilda', slung over his back and travelling, 'waltzing', as it was called, through Australia's vast outback, looking for work on a sheep farm. Waltzing Matilda is a lasting monument to Australia's history and the power of music to transform tragedy into sublime art for people to enjoy.
product details for Waltzing Matilda for Saxophone Quartet
level: intermediate
price: € 5.57 (full score at concert pitch + all parts)
sample page (transposed) click to enlarge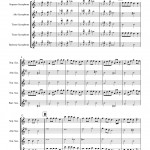 more…
The National Film and Sound Archive of Australia has a page with soundfiles of several versions of Waltzing Matilda.