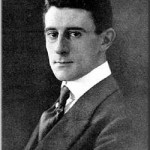 Here's a real challenge for experienced saxophone players: the first movement of Ravel's String Quartet in F Major. It contains 16th note (semiquaver) runs that might require some exercise, but we assure you: this beautiful, haunting piece of Ravel's music is absolutely worth the effort. The theme is so intriguing, it is both lyrical and tense, as if some unknown menace is already casting its shadow over Arcadia and a cold wind is beginning to blow.
Download a free sample set w/ all parts
Listen to Ravel: String Quartet for Saxophone Quartet:
shocked critics…
Maurice Ravel (1875-1937) composed his only string quartet in 1900. It became the centre of a controversy, that was later called the Ravel Affair, a turning point in his life. He submitted it to the Prix de Rome and the Paris Conservatory, that both rejected it, being especially critical of the first part, considered not worthy of a composition prize. This rejection shocked many critics (one of them even called Ravel "one of the masters of tomorrow") and musicians wrote violent protests.
… admiring colleagues
Fortunately, the public loved the string quartet and so did Claude Debussy, a composer much admired by Ravel. In 1905 Debussy supposedly wrote to Ravel: "In the name of the gods of music and in my own, do not touch a single note you have written in your quartet." We might consider quarrelling with Debussy, but not with the gods of music, so we followed the original as close as possible. In 1905, Ravel left the Paris Conservatory, feeling frustrated, but with a glorious career ahead.
So, when you play the first movement of Ravel's String Quartet in F major with your saxophone quartet, remember that you play a piece of music that people once both loved and hated. Now, more than a hundred years after the affair, Ravel has become one of the revered masters of the past century and the love for this wonderful piece of music has won. We hope that you will share it with your audience.
product details for Ravel: String Quartet (1 mvt) for Saxophone Quartet 
level: advanced
price: € 9.57 (full score at concert pitch + all parts)
sample page (transposed) click to enlarge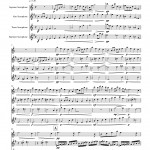 more…
If you're ever in the neighbourhood of Montfort-l'Amaury, some 18 miles west of Paris France, visit "Le Belvédère", the house were Ravel lived from 1921-1937. He called it a "bicoque", a shack, but it is actually a nice house with a beautiful Japanese garden. And it reveals something of Ravel's character. Walk through the dining room, the library, the music room (with the piano!) and the salon japonais packed with oriental curiosities. Maison & Déco has a lot of pictures of the house. And here's the tourist information.