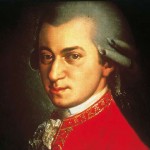 A string quintet can be rather intimidating. It's not just a quartet with an extra viola or cello. It requires a lot of skill from the musicians to bring all the voices to life and at the same time keep the balance within the ensemble. This also applies to the saxophone quintet. So here's a real challenge for the brave ones: the first movement (allegro moderato) of Mozart's String Quintet no 1 for a saxophone quintet SATTB.
Download a free sample set w/ all parts
There are two possible line ups of a string quintet: two violins, two violas, one cello (called a viola quintet) or two violins, one viola, two cellos (a cello quintet). Mozart prefered a quintet with two violas. The six string quintets he composed, all belong to the most brilliant works in the genre of chamber music.
Mozart composed the String Quintet no 1 when he was seventeen. The Cambridge Mozart Encyclopedia considers it a "relatively isolated work" among the chamber music repertoire in those days, rather experimental.
Nevertheless, the piece has real admirers. Read the forum entries on www.gramophone.co.uk and consider this opinion: "complex, brilliant and of considerable structural depth work, much greater than practically anything else he wrote that period."
Product details for Mozart: String Quintet no 1 for saxophone quintet
level: advanced
price: € 10.57
Sample Page (transposed) click to enlarge: