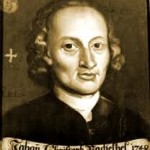 We've arranged Johann Pachelbel's Canon in D for a saxophone quartet SATB because of the wonderful sequence of chords that lay at the heart of this piece of music. The sequence is also found in many pop songs, ranging from Percy Sledge's When a Man Loves a Woman to Go West by the Village People. That is why this piece can easily be enjoyed by an audience that is unfamiliar with classical music. Although it is immensely popular as a wedding song (played as the bride walks down the aisle), don't hesitate to perform it on other occassions.
Download a free sample set w/ all parts
Listen to Pachelbel: Canon in D for Saxophone Quartet:
Johann Pachelbel (1653-1706) was a German composer and Canon in D is his most popular work. It possibly premièred at the wedding of Johann Sebastian's Bach's eldest brother, also Pachelbel's former pupil, Johann Christoph Bach, on 23 October 1694. This is baroque music, originally composed for the musical elite of the day and its beauty lays in the clear melody and harmonics.
Its original score consist of three violins engaged in canon and a fourth voice playing an independent, repetitive bass line. We've transposed the piece and adapted the four voices to make the piece playable for saxophone quartet.
The tempi and dynamics of Pachebel's Canon in D are free, so you have the option to play the music in different modes. You can choose either for a repetitive mode, which stresses the piece's lucidity, turning it into an expression of solid and unshakable love, expressed by the deep voice of the baritone sax.
Or you can play it in a more seductive mode, starting laid back, but working towards a climax. Think of a couple dancing away, into a moon-lit garden, where the air is heavy with fragrances of beautiful flowers…
product details for Pachelbel: Canon in D for Saxophone Quartet
level: intermediate/advanced
price: € 5.57 (full score at concert pitch + all parts)
sample page (transposed) click to enlarge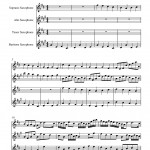 more…
Not everyone's a fan. Watch comedian Rob Paravonian do his hilarious Pachelbel Rant.