SATB, AATB and AATT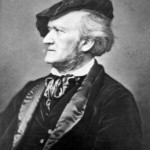 We're not afraid of Richard Wagner, and neither should you. So, we offer you Wagner's Bridal Chorus from the opera Lohengrin, better known as "Here Comes the Bride" for 3 saxophone quartet settings: SATB, AATB, and AATT. With these arrangements even less experienced players can heighten and brighten the atmosphere of a wedding with the ultimate bridal entrance song.
Download a free sample set w/ all parts of the AATB, AATT or SATB
Listen to Wagner: Bridal Chorus "Here Comes the Bride" for Saxophone Quartet:
Yes, it's true what they say
You might associate the German composer Richard Wagner (1813–1883) with pompous operas filled with gloomy Teutonic heroes, struggling in vain, succumbing to some tragic fate, solemnly ordained by Odin and the likes of him. Well, you're absolutely right. However, at the same time Wagner wrote great music to make sure that his heroes went down consoled by absolutely sublime melodies. This is also the case with the Bridal Chorus, the opening scene of the final act of the opera Lohengrin, that premiered in 1850.
quintessential wedding music
The young couple, Elsa and Lohengrin, are just married (that's quite a difference with the current practice) and while they retreat to the bridal chamber, a choir softly sings: "Treulich geführt ziehet dahin, wo euch der Segen der Liebe bewahr'!" In English: "Faithfully guided, to where the blessing of love may preserve you!"  This is not exactly what happens. But that's another story. We appreciate this music as the ultimate musical celebration of the cheerful mood of a wedding.
When you play "Here Comes the Bride", you give the bride an unforgettable entrance, which according to the experts, is one of the most moving moments of the day. By doing that, you prove once again the enduring appeal of Wagner's Bridal Chorus.
product details for Wagner: Bridal Chorus "Here comes the bride" for saxophone quartet
level: intermediate
price: € 5.57 (full score at concert pitch + all parts)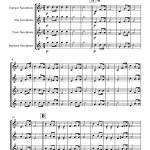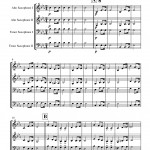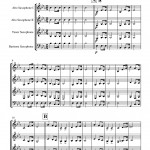 more…
If you're interested in the music of Richard Wagner and want to know more about Lohengrin, watch this introduction by Nick Reveles.