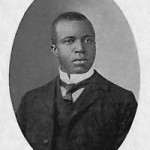 When you're playing Scott Joplin's Maple Leaf Rag, in this arrangement for saxophone quartet SATB, you're doing something special. You're not just playing a wonderful piece of music, written by one of America's great composers, but you are playing a monument of truly American music. Maple Leaf Rag is a blend of influences from Africa and Europe that were brought together to create something new and amazing, as fresh and energetic today as it was the day Scott Joplin released this music.
Download a free sample set w/ all parts of the SATB
Scott Joplin (ca. 1868-1917), the son of a former African slave and educated in European classical music by a German immigrant, who recognized Joplin's remarkable musical talents, incorporated the musical traditions from both the Old and the New World.
He composed Maple Leaf Rag, his first hit, probably in 1898 or 1899, when he was playing in The Maple Leaf Club in Sedalia, Missouri. He intended to raise the music from the bars and brothels to a higher level, vital but sophisticated. Joplin achieves this by combining stimulating rhythms, spirit-lifting melody and well-defined harmony, reflecting European as well as African influences. It earned him the title 'King of Ragtime'.
Maple Leaf Rag was one of the most recorded songs in the first decades of the twentieth century. The movie 'The Sting' caused a revival of Scott Joplin's music, and it has been with us ever since.
This SATB arrangement brings back the popular music from the turn of the previous century, and in it you sense the vibrant energy of a nation that is to become the new world power. Cars and planes, records and movies were the new craze. When you play this music, both you and your audience will release that energy again, the power that Scott Joplin captured so well in the music of Maple Leaf Rag. It has become a model for many other compositions, so why should you and your audience not simply enjoy the original?
product details for Joplin: Maple Leaf Rag for Saxophone Quartet
level: intermediate/advanced
price: € 5.57 (full score at concert pitch + all parts)
sample page (transposed) click to enlarge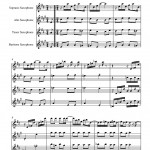 more…
Want to know more about Joplin and ragtime, visit the information-packed site of "Perfessor" Bill Edwards.