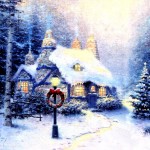 It's the sound of Christmas: Silent Night (original: "Stille Nacht, heilige Nacht"). The soothing melody and the lyrics, expressing the desire for peace, transcends religious boundaries. That's why the song was declared an intangible cultural heritage by the UNESCO. Every Christmas Silent Night is sung by millions with family and friends, in humble chapels, great churches and magnificent cathedrals. And do you know a popsinger who hasn't covered it? You can add your version with this arrangement for saxophone quartet SATB and AATB. We've added some nice rhythmic embellishments.
Download a free sample set w/ all parts
from humble beginnings…
The song was written by two Austrians. Joseph Mohr, a young priest, wrote the lyrics in 1816. Two years later, on Christmas Eve, he asked his friend Franz Gruber, a schoolmaster and organist, to write a melody with guitar accompaniment. 
Now there's a nice story about what might have been the reason for Mohr to ask his friend to write music to his words. Allegedly the organ at the church wasn't working because mice had eaten the bellows. So in order to have music Mohr and Gruber performed "Stille Nacht, heilige Nacht" at the midnight mass on the night of December 24 with Mohr on guitar.
… to going global.
Whether true or false, every once in a while the organ was due for maintenance. Enter the organbuilder Karl Mauracher. He heard the song and brought it to the attention of a family of travelling singers, the Strasser Sisters. They added "Stille Nacht, heilige Nacht" to their repertoire as did another singing family, the Rainers (yes, this was Von Trapp territory).
When the Strasser Sisters sang the song in Leipzig, a music publisher heard it and published it in 1832. So "Stille Nacht, heilige Nacht" appeared in songbooks all across Northern Europe, albeit with some rhythmic and melodic modifications.
In 1839 the Rainer Family performed the song in New York City. Twenty years later, bishop John Freeman Young wrote the English translation. Silent Night as we sing it today was a fact.
Merry Christmas!
product details for Silent Night for Saxophone Quartet:
level: easy/intermediate
price: € 3.57
sample page (transposed) click to enlarge: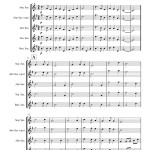 more…
The Silent Night has been translated into about 140 languages: Zulu, Chinese, Inuit and so on, even american sign language. You can find them on the Silent Night Web