The gloomy and eerie St. James Infirmary must be one of the most covered songs in the world. Here's an old one. It's from the Betty Boop animated short "Snow White", with Cab Calloway lending his voice (and slick moves!) to Koko the Clown. Speaking of Cab Calloway: listen to his signature song Minnie the Moocher and notice the similarity with St. James Infirmary. We offer you an arrangement for two saxophone quartet combinations, AATT and SATT with chords and suggested solo's. If you want the version for saxophone quartet SATB or AATB, click here.
Download a free sample set w/ all parts of the AATT or of the SATT
product details for St. James Infirmary for Saxophone Quartet
level: intermediate
price: € 9.57
if you want information on the arrangements for SATB or AATB, click here
sample page (transposed) click to enlarge: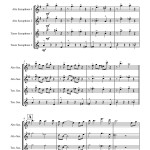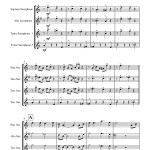 more…
American author Sarah Vowell tries to "figure out" the meaning of St. James Infirmary. You can read her article on Salon here.