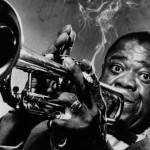 If you want to play music that mesmerises your audience, music that makes them happy and sad at the same time, try St. James Infirmary. This traditional has been made famous by Louis Armstrong. We have arranged it for two saxophone quartet combinations (SATB and AATB) and we've added chords and suggested solo's to the sheet music. If you want the arrangement for SATT and AATT, click here. Thanks to this arrangement, you don't have to be an Armstrong-on-saxophone to create a wonderful performance.
Download a free sample set w/ all parts of the AATB or the SATB
Many artists have covered St James Infirmary. To name but a few: Duke Ellington, Billie Holiday, Count Basie, Dizzy Gillespie, Janis Joplin, The Doors, Hugh Laurie, The White Stripes and Tom Jones.
The power is in the music
Armstrong plays a solo: slow, but powerful. We have tried to capture that feeling in our arrangement for saxophone quartet. His solo is followed by a spooky chanting, adding a touch of horror to the song. You might try to incorporate that in your performance. Imagine yourself playing in a New Orleans funeral march, and you'll be in the right mood.
Much has been said about the song's lyrics. In our version, of course, there are no lyrics, but we've tried to catch the meaning of the words in the music: a strange mix of emotions, but very evocative.
In the Louis Armstrong version of St. James Infirmary, a man looks at his baby, lying on a long white table 'so cold, so sweet, so fair'. But his mourning is not exactly what you might expect. Now she's dead, 'she can look this wide world over, but she'll never find a sweet man like me'.
In the next stanza, the singer hopes to look good at his own funeral, with a Stetson, lace shoes and a twenty dollar gold coin on his watch chain. Many people have wondered about these lyrics. We believe there's an important clue hidden in them.
The clue is in the lyrics
St. James Infirmary has a long history, dating at least back to the 18th century, when folks in England sang about 'the unfortunate rake' or a 'young man cut down in his prime', killed by a venereal disease, after visiting prostitutes.
No doubt, the song is much older. The infirmary it refers to was London's St. James Infirmary were lepers were treated, until the hospital was closed in 1532 by king Henry VIII, who bought the site to build his St. James Palace.
So you can imagine a long-lost original version about a man staring at his loved one who has just died of leprosy, and wondering how long it would take before he would lie on the same table. Will he look as good as she does? But there is no time for mourning, since life is so short.
Missing a loved one and worrying about the future is as old as the world. By playing this music with your saxophone quartet you help people to overcome these worries.
product details for St. James Infirmary for Saxophone Quartet S/AATB w/ chords and suggested solo's
level: beginner/intermediate
price: € 9.57 (full score at concert pitch + parts)
if you want information on the arrangements for SATT or AATT, click here
sample page (transposed) click to enlarge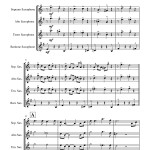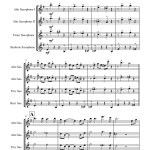 more…
I went down to St. James Infirmary is a blog with "Investigations in the shadowy world of early jazz-blues" and deals with the question "where did this dang song come from anyway."