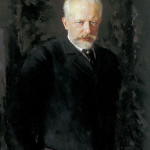 Tchaikovsky's inspiration for the second movement (the beautiful andante cantabile) of this String Quartet was a tune he once heard a house painter whistle. That's why you probably won't forget it and even like to hum or whistle it. We have arranged it for saxophone quartet SATB and AATB. The quartet premiered in 1871 and has become one of Tchaikovsky's most popular pieces. When it was played on a concert in honor of Leo Tolstoy, the writer, listening to the second movement, he burst into tears. What is the secret?
Download a free sample set w/ all parts of the SATB or of the AATB
Listen to Tchaikovsky: String Quartet op 11 no 1 for Saxophone Quartet
Beautiful melancholy
The song the painter whistled is called "Vanya sat on the divan and smoked a pipe of tobacco" or, in another translation, "Vanya one night sat sadly on the divan, a glass of rum in his hand, to drown his sorrow and forget tomorrow". Because of the definite sense of melancholy in the melody, and the rum, we prefer the second option.
Tchaikovsky gives it the power to really move you. How does he do it? Listen to it and you may find out for yourself. Is it because of the contrast between the first fragile tones, followed by a string of deeper notes, almost like a bell that tolls? Then, the music expands into a melody that, to some, almost sounds oriental, sustained by a staccato rhythm.
Inspiring melodies
Throughout his musical life, Tchaikovsky (1840-1893) tried to reconcile Western and Russian musical traditions. This means not only that Tchaikovsky let folk melodies inspire him, but also that he preferred to write variations in the melody, rather than develop harmonies the way you would expect in a typical western string quartet.
This approach brought him much controversy, both within Russia and abroad. Nowadays, we are able to savor both traditions. The result is surprising and captivating music, both for you as a saxophonist to play and for your audience to enjoy.
product details for Tchaikovsky: String Quartet op 11 no 1 for Saxophone Quartet
level: intermediate/advanced
price: € 9.57
sample page (transposed) click to enlarge: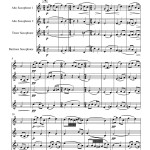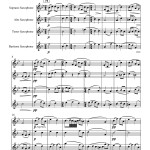 more…
More on Tchaikovsky's first String Quartet at Earsense