SATB and AATB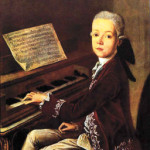 It must be one of Mozart's most popular pieces: the Serenade no. 13 for Strings, better known as Eine Kleine Nachtmusik (A Little Night Music). You can hear it not only in concert halls but also as background music in shopping malls and movies like Batman and Sophie's Choice. The iconic four-bar-opening found its niche in popular culture as a catchy ringtone. We offer you two arrangements for saxophone quartet of the first movement (SATB and AATB). This jubilant, sunny and pleasing to the ear Allegro is probably the best known of the four movements.
Download a free sample set w/ all parts of the SATB or of the AATB
If a serenade is cheerful background music…
According to the Köchel catalogue, Mozart wrote thirteen serenades. Eine Kleine Nachtmusik is number 13 and was composed in 1787. At that time Mozart was working on his opera Don Giovanni so perhaps making the serenade was a lucrative break. After all, most of his serenades were written on commission.
In those days a serenade was background music played at dinner parties and receptions. It was unpretentious and not supposed to distract the guests. That's why serenades are in general not very complex compositions and often set in a major key. For his serenades, Mozart used almost exclusively D major: bright, brilliant and joyous.
… than why is there a rocket in it?
However, Mozart was an ingenious composer. He could not resist to put more music in his serenades and to use new ideas. One of them being the Mannheim Rocket. In the second half of the 18th century the musicians and composers of the court orchestra of Mannheim, came up with a number of musical innovations: the Mannheim Crescendo, the Mannheim Roller, the Mannheim Sigh, the Mannheim Birds ánd the Mannheim Rocket.
The Mannheim Rocket is a swiftly ascending melody line, diatonic or arpeggiated. It's often found at the opening of a movement and really wakes up the audience. Mozart could have picked it up while he was visiting Mannheim in 1777. Listen to the first bars of Eine Kleine Nachtmusik. Quite a way to start what was expected to be a modest, unobtrusive piece of music.
Enjoy Eine Kleine Nachtmusik with your saxophone quartet, whether you perform it as background music or in front of an attentive audience.
product details for Mozart: Eine Kleine Nachtmusik for Saxophone Quartet (1 mvt)
level: intermediate
price: € 9.57
sample page (transposed) click to enlarge: