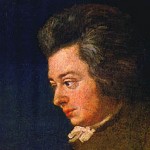 Mozart and dissonance! For those of you who assume that Mozart always composed light and sophisticated music, we have a little surprise: the slow introduction to the first movement of his String Quartet no 19 is very powerful music, so powerful that at the time it made listeners feel a little uneasy. So they nicknamed this quartet "Dissonance". We offer you the first movement (the Adagio-Allegro) of Mozart's String Quartet no 19 for saxophone quartet SATB.
Download a free sample set w/ all parts
You don't need to worry that to 21st century listeners String Quartet no. 19 is as disturbing as it might have been for the delicate taste of upper-class music-lovers from the 1780's. But we still feel its 'edge', the mix between harmony and disturbance which makes it so attractive.
What about Einstein?
String Quartet no 19 is the last in a set of six quartets Mozart composed in the period 1782–1785. He dedicated them to his musical friend Joseph Haydn. Let's do some more name-dropping, to convince you of the beauty and power of Mozart's music: Albert Einstein absolutely loved Mozart.
As a young man, Einstein passionately played the violin, partly to impress beautiful women, but also for the good of science. Whenever he was struggling with some complicated mathematical problem, he turned to music to find inspiration for an elegant solution and that usually did the job. Well, we can't guarantee that playing String Quartet no 19 leads to major scientific breakthroughs, but we can assure you that it will enchant both you and your audience.
product details for Mozart: String Quartet no 19 for Saxophone Quartet (Dissonance) (1 mvt)
level: advanced
price: € 9.57 (full score at concert pitch + all parts)
sample page (transposed) click to enlarge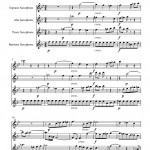 more…
Watch this interesting lecture by Roger Parker, Gresham Professor of Music. He discusses both the historical and musical background of Mozart's String Quartet no 19. There's also a transcript of the lecture available